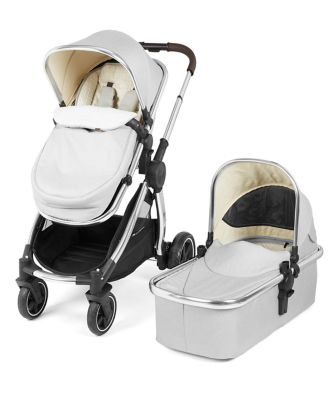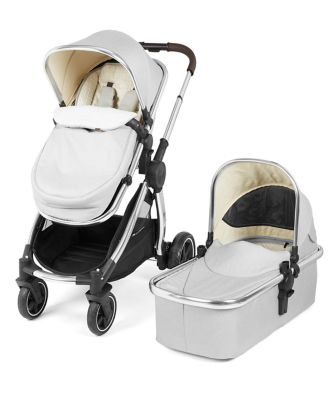 mothercare journey edit pram and pushchair
is rated out of
5
by
97
.
Rated

5

out of

5
by
Nanny
from
Perfect!!!
We have this pram in the grey. Our grandson has just turned 1. What can I say, if your looking for a stylish, sturdy, comfortable, hard wearing pram then look no further! It has all the added features of the more expensive well known brands but at a more affordable price. My grandson used the pram top and is now in the pushchair part and has always looked comfortable. I haven't got one negative thing to say, well that is except what a shame such a trusted and well known company- morthercare is having to close. Where will people be able to go for affordable and safe baby things when this fantastic shop is closed. What a shame!!!! "Well done mothercare for years of service to all of the parents needing trusted advice to help care for there new precious little ones"
Date published: 2019-12-03
Rated

5

out of

5
by
Roxy
from
Brilliant pram
We are 4 months into using this pram and it's been brilliant, I found the previous reviews really helpful when researching which pram to purchase. It's easy to fold away, got great features, looks stylish and is great value for money! The only downside is we have had to return with a broken brake but have received another one whilst it's sent off to be fixed.
Date published: 2019-11-02
Rated

5

out of

5
by
Paula
from
Great!!
I love this buggy, I have a 4 month old son and it's perfect, it looks really expensive & is really sturdy. So easy to put up and down and connect the carry cot too. I love it & is a bargain at the price
Date published: 2019-11-02
Rated

5

out of

5
by
Kayleigh
from
Fantastic pram
We have been using this pushchair for 7 weeks now and we absolutely love everything about it, pushes so smoothly and is fairly light and easy to manoeuvre. Love the colours too looks so smart, we also purchased the matching changing bag which is totally fab. Only things is, even though the basket is is nice and big and carried a fair bit of shopping or items.. i would suggested to keep a reusable bag handy as we have had a few things escape . Have only used carry cot mode so far . Looking forward to using pram mode in a few months time :)
Date published: 2019-08-18
Rated

5

out of

5
by
AwChew
from
Fantastic pram
Bought this pram last week and it arrived 2 days earlier than expected (first time ever a delivery has been early and I haven't been prepared as I hadn't finished the nursery to store it) Baby isn't here yet as due in 10 weeks. We were originally going to go for a silvercross pram which was very similar to this. However, when we were in mothercare looking around we couldn't help but fall in love with this pram. Were having a boy so the blue is very fitting, and the brown leather handlebar added that extra finish off class. Plus my partner loved this feature as it looks more "manly" - typical mens thought process! We pushed it around in store and it handles better than the silvercross we had in mind,plus with it being £1200 cheaper than the silvercross this was becoming a no brainer on which pram system to purchase! The all terrain wheels were something I was particularly keen on as we live at the bottom of a VERY steep hill so we needed something durable to climb up it. I wasn't aware it came with the magnetic zippouch and only noticed when putting it together which was a lovely feature. Setting up the pram was something to be desired, the instruction manual looks like it's designed by a 2 year old and didn't make much sense but with a few curse words it was build 10 minutes later. It handles so beautifully and looks so much more expensive than it actually is! We've kept it in the babies room until the new addition is here but the cats managed to find the pram and spent the night in there. Judging by it, it was the best night sleep of their life they loved the mattress that it comes with. We did buy the matching weekend bag to go with it, which I thought was a little steep for £50, but factoring in how cheap this pram is it was forgiven for the total overall cost. My friend came round and looked at the pram as was very jealous at how luxurious it was, and how easy the lie down was to clip in/clip out as she spent £700+ for her pram and it's a bit of a nightmare to clip the attachments on. I have a bit of difficulty collapsing the pram, but I think with practice, it will become a whole lot easier. So if your thinking of buying this pram, do it. I promise you will not regret it! Mothercare you've made a hormonal pregnant lady very very happy!
Date published: 2019-07-19
Rated

5

out of

5
by
Vicky84
from
Absolutely brilliant!
We've been using this pushchair for 2 months and we absolutely love it. My son seems so comfortable in it. The mattress is so easy to wash. It's lovely to maneuver, easy to get up and down curbs. It's easy to assemble, easy to fold down. We are so pleased we bought this. An added bonus is how easy the maxi cosi pebble plus attaches to it. It even comes with a rain cover that goes over both styles of seating and a car seat.
Date published: 2019-07-08
Rated

5

out of

5
by
Vikki87
from
Great value for money
This is a fantastic pram so far. My daughter is 4 months she is a very long baby but still has plenty of room to grow, I love the bumper bar across the pram to place toys to keep her entertained. It's light weight and folds easily. It's super easy to manoeuvre up a curb due to being lightweight (originally we were going to go for a silver cross but it was very front heavy) not only is it great practically It looks very chic too. There are two features I feel it is missing is the option to incline the pram mattress, my baby has reflux and so to be able to tilt it slight would have been peace of mind. Also the hood is quite open which is great to see the baby but not so good when the sun shines, I have seen pram a with very large extendable hoods which come right over which are fantastic in the sun. Other than that I am 100% happy with this pram! Can't wait to start using the pushchair part!
Date published: 2019-07-02
Rated

5

out of

5
by
Vikki
from
Beautiful pushchair
I received my pushchair yesterday and now have it waiting for my baby to arrive in August. The pushchair is beautiful in colour to its appearance . Seems to push nicely (pushed in front room) interior is beautiful and of a comfort quality. Can't wait to use it.
Date published: 2019-05-10
bvseo_sdk, dw_plugin, p_sdk_3.2.0
CLOUD, getContent, 15ms
reviews, product
Questions & Answers
Hi just wondering is this coming back into stock again and if so is it compatable with a joie carseat?
It is compatible with some joie car seats, they are listed in the product description. I have the joie I-level
Date published: 2019-01-18
Hi I have one of these great prams . I do have one question about the apron that zips on the top on the pram, it has two press studs on it where to these connect to ? I be look at instructions and can't see where they connect
If you have the right hood attatched, the popper pop on from the apron to the hood.
Date published: 2018-10-23
Are you sure hood don't extend as the pushchair hood looks like it has extra material at the back and also looks like there is a zip
Thanks for your query,. This hood extended to 90° (degrees), Hope this helps. Regards
Date published: 2018-05-23
Does anyone have anymore photos of the Grey pram in person so I could see?
I went to see the navy in store and it's amazing even nicer the quality is fab no different to the icandy or egg and half the price . 
Date published: 2019-07-05
Does anyone happen to know which parasols fit the journey edit? We tried the mothercare own brand one in store and it didn't seem to fit unfortunately
Hi we have a jojo mama bebe parasol and it fits perfectly!
Date published: 2019-07-14
Does the carrycot come with matress ir do you buy seperate
A matress IS included, not a liner
Date published: 2019-02-14
Hi! I would like to know why the carrycot is not suitable for overnight sleeping, what requirements are missing? Thank you very much for your attention Kind regards
I believe its due to the sides not being breathable
Date published: 2019-05-04
I am currently using the carrycot option on this pram. My 8 week baby has reflux; is there any way to angle the carrycot so he is not laying completely flat? Thank you.
I have this pram and my little boy has reflux, I have popped a towel under the head of the mattress and this works really well :) 
Date published: 2018-12-30
bvseo_sdk, dw_plugin, p_sdk_3.2.0
CLOUD, getContent, 14ms
questions, product
Read More
Back to top