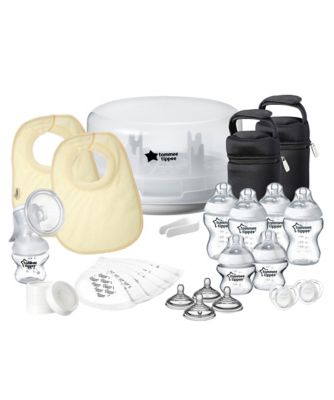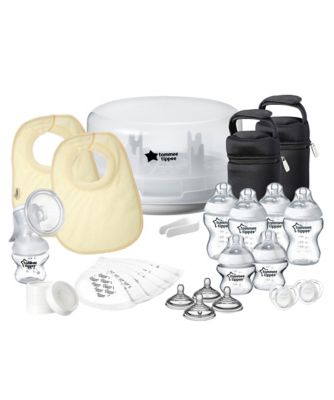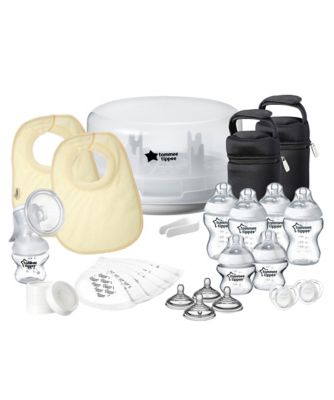 Tommee Tippee closer to nature microwave steriliser set
Tommee Tippee closer to nature microwave steriliser set
is rated out of
5
by
19
.
Rated

5

out of

5
by
Polly
from
Cannot fault this
Upon opening the box, I was surprised how much was in there. There really is everything you need for a baby in there. The breastpump was easy to use and, after finding a comfortable position, it wasn't a bad experience. I did find that if I didn't hold the breast pump at the correct angle, it would hurt, but it was easily remedied with a bit of experimenting. The steriliser was straight forward to use and more roomier than I thought. I could sterilise bottles and dummies at the same time and it was very convenient to use the microwave. The bibs provided are soft and a good size for newborns. This is a really good kit for anyone thinking of expressing feeds for baby, particularly afternoon switching from exclusively breastfeeding. I found baby took well to the shape of the teat, although all babies cope differently. I think mine was just concerned if there was milk or not! [This review was collected as part of a promotion.]
Date published: 2017-12-19
Rated

5

out of

5
by
Star1212
from
Great product. Must buy for every new mom
I received this about 2 weeks ago and this has been such a great product to use. The microwave sterelizer is so easy and convenient to use. It really is just add water and bottles and put it in microwave. This is a great product for new moms as it includes everything that you would need to express. I would defiantly be buying this for any other babies that I have. Must buy! [This review was collected as part of a promotion.]
Date published: 2017-12-03
Rated

5

out of

5
by
Louwhu
from
Great start up
Brilliant start up kit. All you need in 1 box so you don't need to worry about forgetting anything [This review was collected as part of a promotion.]
Date published: 2017-11-30
Rated

5

out of

5
by
Jenmb87
from
Brilliant starter set
This is a great set for any new mums I just love it and my daughter gets on wonderfully with it I'm going to go through the items as it is easier to say what's what. So here goes The breast pump: it is easy to use but it is manual so takes time to get the milk out compared to an electric one that probably does it quicker but the main thing is that is does what it's supposed to do and gives you milk straight into the bottles that it attaches to. The bottles and teats : I only used the small ones for a little bit as I found it is quicker cooling them down in the bigger ones if I need to I also moved up a teat to number 2 as my little one was born quite big and wasn't getting the milk out quick enough so to have the number 2 in there really helps also having the number three helps for when she may be ready I can trial them before I buy more. The bottle bags: I use these if I'm going out or if I'm unsure of what time I will need the bottle to be ready but they keep the bottles warm up to 2-3 hours and if your out you can usually pop into somewhere and ask them for cold water to cool it if needs be. The bibs: I love these bibs so much I went and bought some more I got pink ones as they do come in different colours other than the ones you get in the set which are yellow, these are my favourite bibs to use they are very absorbant, they wash really well and they stop clothes underneath getting wet, the bit around the neck is extra cushioned to stop any milk, sick or slather collecting around babies neck. Dummies: I've also been and bought more of these my daughter prefers these to any other dummy I've tried others that had been bought for her like the mam ones and the avent ones but she prefers these tommiee tippee ones. Steamer: simple and quick to use, I literally just put bottles and water In and stick it in the microwave for 5 minutes and then take it out when it's done using the clip to get some of the bits out because it's steamy and hot but you can literally use the bottles straight away. The white lids: I personally use these when I've made a bottle to shake it before putting the teat on I've found it easier this way as it doesn't explode at you like the teat does if you have boiling water in the bottle I sometimes just leave the bottle with the white lid on loose just to cool down I think these are really handy. Breast pads: they are comfy and stop leaks obviously you have to change them in a period of time like anything else but they do the job they are suppose to I only did breast feeding for a couple of days so I didn't need them for very long and there was more than enough for me in this set as I also got bought a small box of them. Overall would I get this set again in the future?... absolutely! [This review was collected as part of a promotion.]
Date published: 2017-11-30
Rated

5

out of

5
by
Kat87
from
Everything you need and easy to use.
Firstly, I love how much stuff Tommee Tippee can fit into a small box - they are economical with packaging and obviously put a lot of thought into keeping the excess to a minimum. The instructions are written clearly and are easy to understand, I had everything I needed sterilised within 15 mins of opening the box. I found the breast pump easy to use, I like that with manual pumps you can be mobile while using them although it can take a bit longer than electric ones. I managed to express enough milk for a small feed in less than 10 minutes, and I am sure this will become quicker with practice. Although, the first valve that was attached to the pump did not have a hole in the end, which meant the milk was collecting above it and couldn't pass through, once I had worked this out, and swapped to the spare valve it all worked fine! My son is 3 months old and had never used a bottle before, but had got the hang of latching onto the teat very quickly, I think because they are a very similar shape of the breast/nipple; I am confident that he will be using them efficiently with a little more practice. The bibs are great, they fit snugly around his neck and kept his clothes dry even though he was initially spitting out a lot of milk. It is also great that breast pads are included in the kit, there really is everything that you need! They are nice and slim, not bulky so you can see them through clothes; my only issue is that they are individually wrapped which seems like an unnecessary use of plastic to me, from an environmental point of view I would prefer if they were not wrapped, or at least in something recyclable! [This review was collected as part of a promotion.]
Date published: 2017-11-29
Rated

5

out of

5
by
Hayley Peet
from
Fantastic product very useful!
I have to say this product is so perfect! It has everything you could possibly need and more. The Mircrowaveable steriliser is so easy to use and you are able to sterilise 4 bottles at once. The breast pump is super easy to use with the bottle attached underneath so no need to transfer you can just screw on the teat and use straight away. It also comes with 4 9oz bottles and 2 smaller bottles with a vary of teats that's grows with the baby. Definitely would recommend to anyone who is due to have a buy it's a fantastic present! [This review was collected as part of a promotion.]
Date published: 2017-11-27
Rated

5

out of

5
by
Jackie
from
Great products!
The steriliser is really handy to take away for night's at grandma's and easy to use the accessories are fab and extremely pleased with the whole set ...would highly recommend and love all the tommee tippee products I have [This review was collected as part of a promotion.]
Date published: 2017-11-27
Rated

5

out of

5
by
Danielle1990
from
Amazing value everything you need.
I got this set and it is brilliant! So much in there that you need! Sterilizer is quick and easy to use especially if going away! I find the bottles good to use my daughter has took to these with no issues.so much in here would reccomend to any parent. I also really like the bibs as my daughters clothes dont get wet from milk or dribble. Was unable to upload photos ! [This review was collected as part of a promotion.]
Date published: 2017-11-27
bvseo_sdk, dw_plugin, p_sdk_3.2.0
CLOUD, getContent, 9ms
reviews, product
Questions & Answers
Hello, I would like to know if the bottles, included in Tommee Tippee closer to nature steriliser set prevent from collic.
Thanks for your query. No these are not Anti colic bottles. Regards, Mothercare
Date published: 2019-08-05
bvseo_sdk, dw_plugin, p_sdk_3.2.0
CLOUD, getContent, 11ms
questions, product
Read More
Back to top