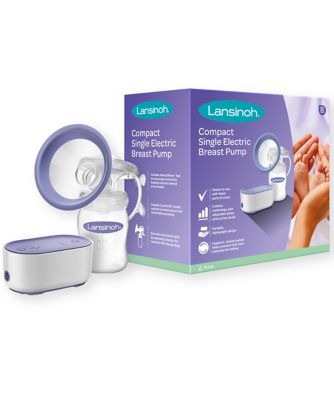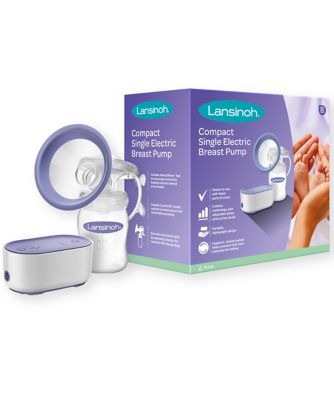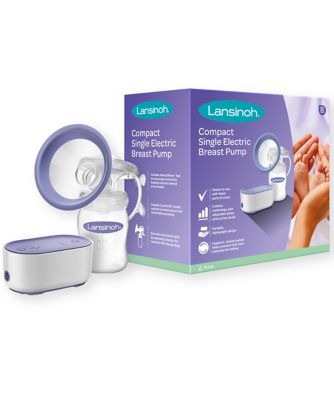 Lansinoh compact single electric breast pump
Lansinoh compact single electric breast pump
is rated out of
5
by
12
.
Rated

5

out of

5
by
Angiebaby
from
The best breast pump on the market
I have been lucky enough to obtain both a medela swing and a Lansinoh single electric pump and can say hands down the Lansinoh pump is the winner. Firstly setting up the pump, attachments and bottles is easy. All the pumping parts are simple to clean and sterilise (you don't have to sterilise with breastmilk this but it gives me peace of mind). The pump is a lovely shade of purple and lightweight enough to move whilst out and about. I am someone who can only pump small amounts frequently (30-60mls each time) although occasionally I manage to get 90mls. The let down setting is brilliant and I have found that if I revert back to the let down setting when my milk output slows on suction mode that i produce a lot more milk. Having used both the medela and Lansinoh pumps I have found that I manage to express more milk (10-30mls more) from the Lansinoh pump and I've used and tried both pumps at various times of the day and at various points between feeds or whilst feeding on the other breast. I've double pumped and changed up which pump has been on which breast and still express more milk from the Lansinoh. The other benefit of the Lansinoh breast pump is that you can express straight into Lansinoh milk bags. This saves cleaning and sterilising and means it can just go straight into the freezer when done. The bags fit perfectly onto the pump but definitely need to be taken off the pump with two hands (not a one handed holding the baby job). This makes expressing a lot easier. The Lansinoh breast pump is worth the money.
Date published: 2019-01-31
Rated

5

out of

5
by
Melissa
from
Easy to use
I love this pump. I already had a Lanosinoh pump but got this one as it is lightweight and easier to take out with me. The pump is really comfortable and is easy to use.
Date published: 2019-01-29
Rated

5

out of

5
by
Siobhan
from
Really comfortable
I already owned a manual pump but it took so long to express, I also had a different electric pump but couldn't get on with it, this one is so comfortable, mimics how my baby feeds, doesn't hurt the nipples and meant expressing time was a lot shorter! And on top of that it's small, light weight, easy to travel with and quiet!
Date published: 2019-01-17
Rated

5

out of

5
by
Misskb
from
Excellent compact pump! Highly recommend!
This breast pump has been great! I was new to breastfeeding and to expressing and I found the pump very easy to assemble and use. I like to modern compact and lightweight design. Being able to use a USB battery rather than the mains has been extremely useful so that I can move around with the pump especially useful with having a toddler!
Date published: 2019-01-08
Rated

5

out of

5
by
Sarahmm128
from
Fantastic compact pump
This pump is a fantastic buy, it's so compact and easy to use. I found the pump quick and effective and really comfortable. I would recommend to anyone who is needing to pump on the go as it's so small it fits easily in a change bag. I found I was easily able to express a full breasts worth of milk in around 10 minutes with this pump.
Date published: 2018-10-22
Rated

5

out of

5
by
MichelleP
from
Great product!
I have been using the pump for 6 weeks and it far exceeds the couple of other pumps I've used with my first child. It's really compact but very efficient and silent. I pump while feeding and it doesn't disturb my baby at all. Being able to switch modes has been great as I feel it has definitely reduced the time I used to take me to pump what I needed. My baby has also tak n to feeding from the bottle well too. The USB port is a great feature and I've even used it in the car.
Date published: 2018-10-22
Rated

5

out of

5
by
MrsB11
from
Fantastic product
I absolutely love this product it is so compact and simple to use, also has a great feature of automatically swapping between modes. It is perfect for if you want to travel with it or take it to work as it can also be used with a power bank, while in use this is a really quiet product too. My baby loves the bottle that it comes with too.
Date published: 2018-10-20
Rated

5

out of

5
by
K1485
from
Small but mighty!
I am the proud mother of one child and, having taken delivery of this one, the proud owner/user of eight different pumps! My baby will only feed mostly on one side so I pump the other to maintain the supply. Having gone through 7 pumps and a lot of heartache to find the 'right' one for me it may seem silly to add this one into the mix. However, firstly I never look a gifthorse in the mouth and secondly I was intrigued by what this pump had to offer. So I will give this pump the best, most honest review I can and try not to compare it to my current one. My first thought with this pump was that although Lansinoh is a brand I'm familiar with, it wasn't one I used a lot. A quick look at my current pumping life with Lansinoh nipple cream, latch assist tool, therapearl heat remedy, shields, bags and various other paraphernalia soon put paid to that idea! The breastfeeding field really is where Lansinoh excel as a brand. This pump comes in a very small box for one good reason, it's a very small pump! The accessories it comes with are what you would expect: plug, flange, valve, tubing, bottle and storage lid. The flange it comes with is 25mm which I think will suit most people. Unfortunately, it does not appear to be available in any other size currently and from experience I would prefer this in a smaller size. The bottle is the mOmma range which, amongst its many features, is designed to be used for expressing, storing and feeding. Anything which helps cut down on time spent transferring and sterilising items along with reducing the amount of 'stuff' needed can only be a good thing in my eyes! The bottle also comes with their breastfeeding friendly teat so you are ready to go on that front. In terms of usage there really is little to go wrong with the controls: from powering on it is in let down mode where you can change to one of 5 suction settings. At 2 minutes it will automatically switch to express mode or you can do this by pressing the 'droplets' button. Again you can adjust the suction in this mode to one of 5 levels using the + and - buttons. There are lights so you can easily see what setting you are on in the dark and the simple interface make this very simple to get to grips with. On the downside 5 suction settings is a limited amount however the range covered seems more than acceptable and in reality even where I have a variety of speed and suction options with my other pump I tend to stick to two or three combinations. The system as a whole is a closed pumping system so very hygienic and has been designed to have the least amount of parts for ease of cleaning. This does mean that you either need to remove just the bottle and put the cap on it to move the milk or take either the whole thing or everything but the main unit and power supply. This is described as a hospital grade pump which surprised me when I used it as it didn't feel as strong as other hospital grade pumps I've used. After using it for a few weeks now I can confirm that the milk output is the same as the more intense pumps I'm used to but the Lansinoh compact pump feels much gentler on your nipples. For this reason alone I would encourage any new mum to choose this pump over others on the market. As someone who regular travels around the UK visiting friends and family I have found myself pumping in some weird locations. Although I loathe having an extra bag with me, my current pump has a rechargeable battery which makes up for its size. Enter the Lansinoh compact: small enough to fit into a handbag without any issue and it includes a USB point ... so you can use it with a power bank!!!! This feature is such a simple addition but is ingenious. This one feature makes the Lansinoh compact so versatile and useful that it's difficult to see how a different pump would beat it when compared side by side. I've heard that the Lansinoh bags have been adapted so you can pump directly into them. Although I'm yet to try that myself I'm looking forward to doing so. Whilst there are features that could make the Lansinoh compact pump even better (a timer would be awesome), and it has been strange trying a different pump with such an established supply, on the whole this pump delivers in every category you can think of: style, substance and a great price point!
Date published: 2018-10-19
bvseo_sdk, dw_plugin, p_sdk_3.2.0
CLOUD, getContent, 12ms
reviews, product
Questions & Answers
Can I use the tommee tippee bottles I already have with this? Or does it have to be lansinoh?
Hi, Thanks for your query. It is not compatible with Tommee Tippee bottles however, you could transfer to these once pumped. We hope this helps.
Date published: 2019-03-28
Would it work with MAM bottles or any tommee tippee milk storage bags?
Thanks for your query. lansinoh only recommend using lansinoh® products . https://lansinoh.co.uk/product/single-electric-breast-pump/ Regards, Mothercare.
Date published: 2019-04-02
bvseo_sdk, dw_plugin, p_sdk_3.2.0
CLOUD, getContent, 12ms
questions, product
Read More
Back to top